A MOTORCYCLE RIDE IN THE SINGULAR CRETE OF SIENA, TUSCANY
On this motorcycle tour, you will discover a unique land called Crete Senesi (or Crete di Siena). It is the name of a peculiar desert area located in Tuscany that extends south-west of Siena. It features gentle hills interspersed with countless gullies formed by the erosion of water in the clay rocks creating a desert area with suggestive landscapes and impressive panoramas. Photographers from all over the world come here to capture this striking scenery especially remarkable in the early hours of the morning under the most convenient inclination of the solar rays.

Crete di Siena in spring is a large green expanse that sways with every gust of wind. In summer it turns into a golden mantle of ripe wheat, while in winter the environment is rather desert featuring rarely some trees in the valley floor where a few drops of water still stagnates. This lunar scenario is crossed by several roads where it is really a lot of fun to ride a motorcycle so that not even a motorcyclist can miss this tour!

This motorcycle tour will start from the medieval city of Siena. Before that, let's spend a little time and visit this beautiful town that has perfectly preserved over the times its 14th century's appearance, the period of its highest splendor when Siena was a rival city of Florence.

Riding your motorcycle through the Crete of Siena you will cross medieval villages, ancient monasteries and several grans, small fortresses where the harvested wheat was kept, but above all, you will follow many spectacular winding roads like the Ancient Lauretana, already in use in Etruscan times, or the Pecorile Road you can enjoy the most suggestive views of the Crete di Siena. This latter one is an unpaved road built by compressing the ground in order to create a compact and easy to drive ground surface, in any case be always careful because the grip of the tires on the ground is lower.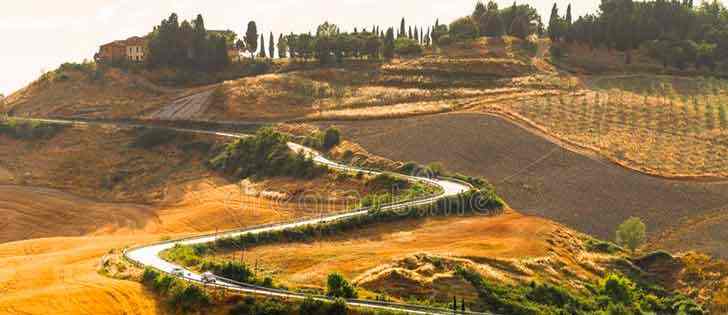 Riding through the picturesque villages of Buonconvento, Asciano, and Montalcino you will cross the Desert of Accona where the landscape of Crete Senesi becomes even more wild and spectacular. In Montalcino have stop and taste a glass of Brunello, the worldwide famous exclusive red wine produced in this area (we suggest not more, because, remember, you are riding!). Before leaving the desert of Accona you will pass by The Abbey of Monte Oliveto Maggiore surrounded by beautiful cypress trees planted by the Olivetan monks to consolidate the land and avoid landslides.

Between February and March in Asciano and Buonconvento are held the "Carnevali di Campagna" which are colorful, folkloristic carnivals you should not miss if you are there at that time. Many small shops located in the villages of Crete of Siena sell handicraft products in terracotta, ceramic, and wrought iron.